Sharon grieves loss of friends to fire
| | |
| --- | --- |
| 4/8/2015 | By Patsy Nicosia |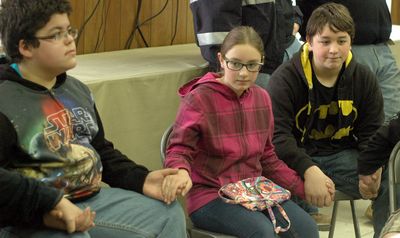 Family and friends of the three young people lost in Thursday's fire, along with community members and volunteers from the Sharon Springs Fire Department and Rescue Squad, gathered Saturday at the firehouse to remember them and to talk about ways to deal with their grief.
Counselors from the American Red Cross assured the crowd of about 50-including a dozen or so of Anthony Sabler's eighth-grade classmates and friends-that whatever they're feeling is normal.
And though it doesn't seem like it now, things will get better.
"What I see here, is people supporting each other," said Red Cross volunteer Vince Calcara, "and perhaps, that's the most important thing right now. Look around. The best support you have is in this room with you.
"Nothing anyone says is going to change what happened," Mr. Calcara continued. "But things are going to get better."
Carol Lernihan, another Red Cross volunteer, said grief will take many forms: Tears, numbness, anger.
"I know small communities," she said, "and what I see often is delayed reactions. Crying for 'no reason.' Outbursts of anger. There's no such thing as a wrong reaction."
Not even laughter.
The first round of laughs came when Mr. Calcara mentioned the importance of eating right-and gestured to a table of cookies, brownies, donuts, and cakes at the back of the firehouse.
More came from the table of Anthony's classmates, where Stacey Wojciechowski, captain of the Sharon Springs Rescue Squad and the organizer of Saturday's event, got them to share their stories-most of them light-hearted.
Then she asked them to hold hands and pray for Anthony, his sister, Gabby, and her girlfriend, Ashley.
Anthony, his friends said, was an artist, a Batman and a "Family Guy" fanatic, and not nearly as much of a 'chick magnet' as he thought.
"Know how he used to do that thing where he'd look at you with his head down and his eyebrow up?" one of them asked. They did.
In honor of Anthony's obsession with Batman, several classmates wore t-shirts with the Batman logo; the entire class is planning wearing Batman tees on the eighth-grade class trip to Six Flags.
Alexis Jackson, who graduated with Gabby, said she was her best friend and an inspiration.
"When people weren't nice to me in school, Gabby spoke up," she said. "She was the sweetest person I ever knew. I know people say that, but with Gabby, it was true. If you looked upset, she made sure you were okay."
Gabby wasn't much of a driver, Alexis said, but neither did she like being a passenger when Alexis was driving.
"I was driving us back from SkillsUSA and the roads weren't very good and even though I had a Jeep, she kept saying, "Are we gonna go off the road? Are we gonna go off the road?"
Gabby was an ace on computers, Alexis said; the boys in her BOCES class couldn't believe a girl could be so good, she said.
"But she just downplayed it. That was Gabby."
Gabby and her girlfriend, Ashley Tefft, who was from Milford, had been together since 2014, and Alexis said the two seemed made for each other.
Emily Bywater, the best friend of Ashley's older sister, Jen Bruce of Sharon, agreed.
"I only really knew Gabby from Facebook, but she made Ashley happy. They were making plans to be together."
Ms. Bywater is a Sharon firefighter. She was at the scene when she realized it was where Ashley was living.
"I had to tell my best friend that her baby sister was dead," she said. "She was family."