Central Bridge fire leaves 9 homeless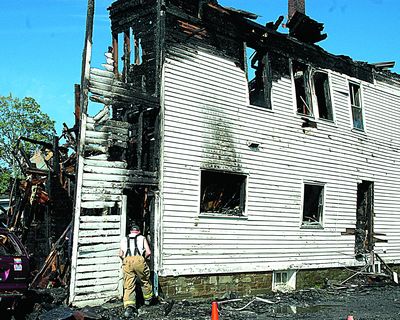 An early-morning fire Monday destroyed an apartment house in Central Bridge, leaving nine people homeless.
The home on South Main Street--and across the street from the Central Bridge Firehouse--was gutted from front to back.
The call came in at 2:20am, according to Central Bridge Fire Chief Scott Johnson, who said one of his volunteers also immediately called in mutual aid from other departments.
"It was heavily involved with flames by then," Chief Johnson said.
John Summers, who lived in a second-floor rear apartment in the building, helped alert other families.
"My dog was barking and biting at me," Mr. Summers said. "I woke up, and the back of the house was on fire."
Several of the families in the front apartments didn't believe there was a fire at first, Mr. Summers said, but they escaped.
Firefighters warned and evacuated neighbors from their homes, Chief Johnson said.
One person suffered minor burns and was treated and released at Cobleskill Regional Hospital, Chief Johnson said.
Houses on South Main are close together, so there was some danger the fire would spread to adjacent buildings.
"I had my second line of water on the house to west to protect it," Chief Johnson said. "At first, we put as much water on that as the house that was fully involved."
No other structures caught fire.
The cause of the fire is under investigation.
Chief Johnson said it took about 90 minutes to get the fire under control.
Rescue squads from Central Bridge, Esperance and Scho-Wright were on the scene, as were fire departments and volunteers from Central Bridge, Schoharie, Esperance, Cobleskill, Carlisle, Middleburgh, Quaker Street and Worcester.
The county FAST and FIVES teams were also working on the investigation, Chief Johnson said.
Volunteers from the American Red Cross provided financial aid to the homeless for food, clothing, bedding and infant supplies.
Red Cross volunteers also provided temporary shelter, personal care items and for children, stuffed animals.
Six adults and three children--ages 1, 7 and 8--lived in the apartment house.