Still time to sign up for Patriot Highlander Challenge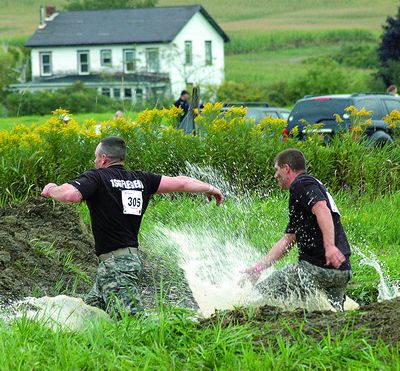 Athletes and veterans from across the Northeast are expected to turn out in full force for the 2nd annual Patriot Highlander Challenge, set for Saturday, August 29, at Sunny Knolls Farm, Cobleskill.
The160-acre facility features a three-mile and six-mile obstacle course designed to promote team work, exercise, and patriotism.
There's also a Patriot Highlander Junior course for kids, with half-mile and mile legs for kids 3-13.
And there is a Senior Challenge event for anyone 60 and older.
The racers will go out in heats starting at 7:30am and continuing every half hour.
Opening ceremonies are at 9:30am.
The Junior Challenges begin at 12:30pm and event awards are at 2pm, followed by music by the Moonshine Junkies.
Participants can still register at patriothighlander.com and the day of the event.
Last year's Challenge, the first, drew 600 competitors and more than 1,000 participants and spectators.
With new obstacles and an expanded course, this year's goal is 1,500 competitors and spectators.
Funds raised from the event directly support the Wounded Challengers of Honor through the Comeback Initiative at EXOS and Adaptive Team Sports for veterans.
More information is available at patriothighlander.com and on Facebook.