Empty Bowls raises $ for hunger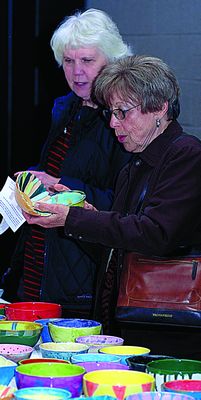 If you couldn't find a bowl you liked Sunday at SUNY Cobleskill, you were just too picky.
Hundreds of hand-painted bowls of all colors were available at the fifth Empty Bowls Schoharie County, the annual effort to aid local food pantries.
The bowls filled tables along one wall at the Bouck Hall ballroom, while tureens filled with soup provided by local restaurants and college clubs lined two other walls.
Empty Bowls raised $7,200, which organizer Jacqui Hauser will divide among the county's 17 food pantries.
"I'm pretty happy with that," Ms. Hauser said. "It was $500 more than we raised last year."
Clubs, civic groups, families, Cobleskill-Richmondville students and many others painted the bowls earlier this fall.
On Sunday, people could buy a bowl and have it filled with one of the offerings. There were 898 bowls, and 750 of them sold.
"Now we have a small start on next year," Ms. Hauser said.
The college's Student Government Association was a co-sponsor of Empty Bowls, and students and others pitched in on Sunday.
"We had great support from students, and Girl Scouts helped, too," Ms. Hauser said. "The staff and faculty at the college were wonderful, coming to support this on Sunday."