D-Day vet honored on 98th birthday
| | |
| --- | --- |
| 11/24/2015 | By Patsy Nicosia |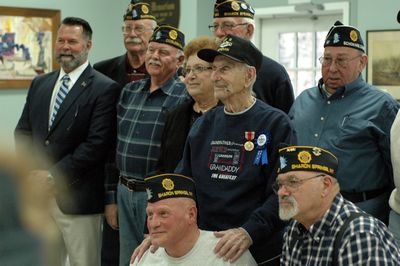 George Perry is one-of-a-kind.
The World War II and D-Day veteran turned 98 Sunday.
And Saturday, the Sharon Springs community-along with Mr. Perry's family and the American Legion-turned out in full force to help him celebrate.
Originally from Nyack, Mr. Perry was a staff sergeant and sharpshooter who was stationed in Japan after the war.
"He's a true hero who risked everything," said Sharon Supervisor Sandra Manko, one of those making remarks, "all to preserve our way of life."
Other speakers read letters and commendations and presented awards and medals from Congressman Chris Gibson and Assemblyman Pete Lopez and others.
Mr. Perry is a lifetime member of the Sharon Springs American Legion Post and has been asked to lead The Pledge at the upcoming Oratorical Contest.
His wife of 45 years, Doris, was among the family members on hand for Saturday's party in Sharon's Community Room.
The couple has five children, 11 grandchildren, 14 great-grandchildren, and one great-great grandson and lives in Spring Meadows Apartments.