In Schoharie, Schumer promises help to FDs
| | |
| --- | --- |
| 12/2/2015 | By David Avitabile |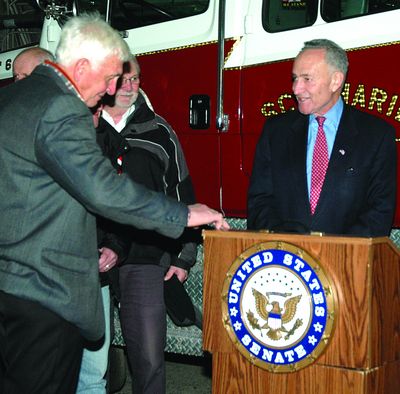 Senator Charles Schumer didn't bring an oversized novelty check with him when he visited the Schoharie firehouse Wednesday, but he did bring some good news.
The end of sequestration--or automatic budget cuts--in the federal budget, should mean an increase in the Assistance to Firefighters Grants, Senator Schumer announced late Wednesday afternoon.
Standing before five Scott Air Paks that were purchased with grant funding, Senator Schumer said the AFG total should be increased from $680 to $810 million.
The Schoharie Fire Department has benefited greatly from grants in recent years, the Senator noted. A safety trailer, a tanker, and a thermal imaging camera have been some of the items purchased by the department.
Senator Schumer was one of the founders of the AFG program, then called Fire Grants.
"The money goes right to fire departments," he noted. "It's been a huge success."
Volunteer firefighters and other volunteers in our communities are extremely important, the Senator told county, state, and local officials gathered at the fire house.
"They're like our soldiers. Our domestic soldiers. They risk their lives for our safety."
Since Benjamin Franklin helped found the first volunteer fire department, there has been "a grand tradition of volunteering" in our county, he continued.
"We care about each other. We look out for each other."
To do that job, he added, fire departments and other rescue organizations need equipment. That equipment is getting better but more expensive.
The Schoharie fire department has received five grants totaling about $300,000, according to Senator Schumer.
This does not include funding for the new fire house.
That funding for the new fire house off Fort Road will be coming from FEMA to replace the flood-damaged fire house on Grant Street.
Bids are expected to go out in January and a ground breaking may be held in April or May, according to fire department officials.
Senator Schumer said last week he hopes to be back for the ribbon cutting for the new fire house in the near future.