Gables gives the gift of Christmas, a car to family in need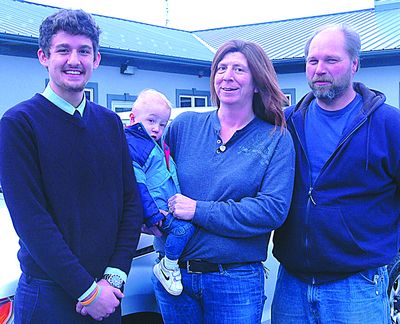 Gable Auto is all about the Christmas spirit this year.
The Cobleskill dealership helped a Schoharie family get a car and is leading a fundraising effort to assist the family with expensive medical bills.
"We're doing what we can to help this family in need," said Gary Morgan, general manager at Gable's, adding that the public can lend a hand, too.
Dennis and Linda Orleanski's misfortune began nearly two years ago, when doctors discovered their newborn son, also Dennis, had a hole in his heart.
The boy had open-heart surgery and was in and out of heart specialists' offices since then, Ms. Orleanski said.
Young Dennis is much better now; he must see a specialist only once year. And although insurance covered most of their medical bills, the Orleanskis were still faced with a $60,000 tab they couldn't pay.
Recently, Mr. Orleanski totaled the family car by hitting a deer.
And lightning struck again when he totaled his company's car by hitting a second deer.
With young Dennis better, getting a car was a priority.
"But they saw all those medical bills on our record, and we couldn't get credit," Ms. Orleanski said of lending institutions.
Nonetheless, they went to Gable's and met with sales rep Chris Riquier.
"Chris came to me and said, 'Can't we do something for them?' " Mr. Morgan said. "This family desperately needed a car, and they had credit problems."
Being cautious, Mr. Morgan wondered whether the Orleanskis' story was genuine. But Mr. Morgan knew the doctor who had operated on young Dennis, so he was convinced.
Getting dealership owner Jody Gable's okay, people at Gable's went to work. They found a 2012 four-wheel-drive Suzuki because the Orleanskis needed an all-weather vehicle.
"We weren't a position to give them a car, but we got them one below cost," Mr. Morgan said. "It's a heck of a deal."
Credit was still an issue, and Mike Simmons, finance and insurance manager at Gable's, got involved.
He worked with GM Financial to get the Orleanskis funding.
"They stepped up to the plate just like we did," Mr. Simmons said.
The Orleanskis met with Mr. Morgan, Mr. Simmons and Mr. Riquier on Friday and picked up the Suzuki then.
But Gable's involvement didn't stop there.
The dealership set up a gofundme account to help the Orleanskis "with their medical bills or for whatever they need," Mr. Morgan said.
Very grateful, the Orleanskis never expected such kindness.
"They're the ones that offered to help us," Ms. Orleanski said. "We're very fortunate Gable's decided to help."

• • •
To make a donation to the Orleanskis, go to https://www.gofundme.com/dennisorleanskijr.