Cobleskill PD takes kids shopping for Christmas
| | |
| --- | --- |
| 12/23/2015 | By Patsy Nicosia |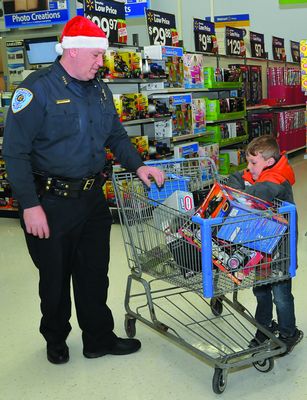 It's hard to tell who was wearing bigger grins:
The cops decked out in Santa hats.
Or the kids they took Christmas shopping Monday in the Cobleskill PD's first-ever Shop with a Cop.
The day-out for eight youngsters from Cobleskill-Richmondville's Golding and Ryder Schools included a $125 Wal-Mart shopping spree for each of them so they could buy Christmas gifts for their families.
Youngsters-and cops-also had a chance to hang out over lunch at McDonald's.
"They had a blast, Kevin Kelly, Ryder principal said afterwards.
"It was a little intense with six or seven officers standing around the office, but they were all wearing Santa hats, so it was okay."
Cobleskill Chief Rich Bialkowski said Monday's Shop with a Cop was modeled after a national program that one of his wife's co-workers mentioned to her.
"It seemed like it would be something great to do here," he said. "We never expected it to be so successful in such a short time."
Within three days of launching the project on social media, Chief Bialkowski said they'd raised more than $1,000.
Because time was short, he said, they had to cap this year's shopping at eight kids, but they're already looking at holding fundraisers to make it bigger and better in 2016.
Chief Bialkowski said C-RCS and Social Services helped provide the name of families looking at a skimpy Christmas for a variety of reasons.
It's also a way, he said, to foster friendships and partnerships between officers and the community they serve.
"My hope for my time as chief is a hashtag #withacop," he said. "The more things we do for the community...it all makes our job easier when we're in other situations. It's all a partnership."