Nat'l Guard & Reserve salutes JT's Joe Tracy
| | |
| --- | --- |
| 1/12/2016 | By Patsy Nicosia |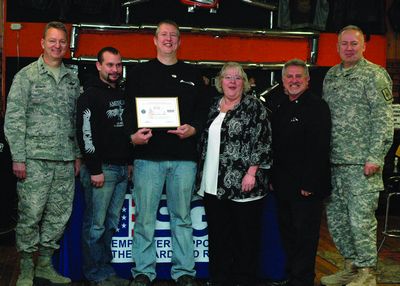 The National Guard showed Joe Tracy what stealth, secrecy, and the element of surprise can do Thursday.
Mr. Tracy, who's owned and operated JT's Cycles in Cobleskill since 2006, thought the surprise was an event honoring employee Zachary Schaffer of Summit for his service in Afghanistan.
But it turned out, he was the one being honored and the surprise was on him.
In fact, Mr. Tracy was the only one who didn't know what was going on.
"I was watching him and he start to look a little confused when I walked in with [their son] Brendon," Mr. Tracy's wife, Pam, said afterwards.
"But until then, I think we had him."
Even Mr. Tracy's parents, Victoria and James, were on hand after "stopping by" to ask grandson Dylan for help putting some splash guards on their truck.
The elder Tracy is a Viet Nam War veteran; Victoria Tracy said she thinks that may be where her son's support of vets came from.
"He makes us very proud," she said. "Especially today."
Mr. Tracy was honored with the Patriot Award by the Employer Support of the Guard and Reserve Office-an honored he thought was going to Mr. Schaeffer, who nominated his boss.
ESGR Program Support Specialist Darlene Stanton was the first to arrive, making sure things were set up for General Tony German and Colonel Curt Williamson, who arrived about a half-hour later.
Speaking quietly so she wouldn't ruin the surprise, Ms. Stanton said the award recognizes employers who go above and beyond when it comes to employees who are in the National Guard and Reserves.
By law, she explained, employers have to hold a deployed serviceman or -woman's job for them till they return or offer a comparable one.
But Mr. Schaffer, who started at JT's after returning from Afghanistan, said Mr. Tracy does better than that.
"I know having an employee in the National Guard can be hard on employers, but I never have to worry when I have weekend training," he said. "Joe just says 'Go.' It's never an issue and that makes it one less thing I have to worry about when I'm away."
Pam Tracy was on pins and needles trying to keep the event a secret, finally settling on the story that it was Zach who was getting the award.
"We're here all the time together, so it was really hard to keep it from Joe," she said. "Plus, the day changed three times..."
Though son Dylan works at the shop, Brendon is still in school-and needed special permission to leave for the event.
The school even suggested Brendon get something signed by General German as proof that he was there.
Brendon did the school one better: A "selfie" with both General German and Colonel Williamson.

The Patriot Award is the first in ESGR's series of awards and "reflects the efforts made to support Citizen Warriors through a wide range of measures including flexible schedules, time off prior to and after deployment, caring for families and granting leaves of absence if needed."
Other ESGR awards include: Spouse Patriot Award, Seven Seals Award, Above and Beyond Award, Pro Patria Award, Extraordinary Employer Support Award, and Secretary of Defense Employer Support Freedom Award.
Many of the awards are progressive in nature, building on the previous award.