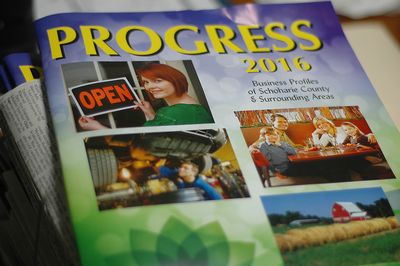 It's here, the Times-Journals' Progress 2016, a 106-page review review of businesses in Schoharie County and surrounding areas.
Work on the magazine begins in the fall and starting wrapping up 2am Tuesday when the first U-Hauls headed to the printer's in Gloversville for pickup and delivery.
Progress is inserted free in all of this week's T-Js. Copies are also available in our office.
Our own story from Progress 2016 follows.


The past year was a time of ups and downs for the Times-Journal.
And part of the downs carried over into 2016, but the T-J will emerge in better shape for having mastered the challenge.
One of the first positives came early in the year, when Bruce Tryon was promoted to sales manager.
Mr. Tryon joined the sales staff in May 2014, and he immediately fit in, both with the T-J team and with the advertising customers he serves.
When Sales Manager Kathy Rivenburg suffered some health issues last year, Mr. Tryon filled in. Still wanting to continue sales part-time, Ms. Rivenburg later stepped aside, and Mr. Tryon began directing sales.
"Kathy did--and still does--a great job," said Publisher Jim Poole. Over the 20-plus years she's been here, Kathy's accumulated sales knowledge and knows our products inside and out.
"Bruce brings terrific energy to the job, and he's willing to help anyone--and I do mean anyone--in the office."
Mr. Tryon and Ms. Rivenburg continue to work with Cathy Brown, the major sales rep in the Schoharie Valley.
"Cathy's been a real stabilizing force during the changes we've been through," Mr. Poole said. "Change is difficult, but Cathy's handled it beautifully."
The second plus in 2015 was the unveiling of the T-J's mobile-friendly and remodeled website late in the year.
Robert Hemstrought of MVINTECH, the company that designed the T-J's original website in 2007, worked with Editor Patsy Nicosia to make the new one easier to use on phones, tablets and other mobile devices.
Ms. Nicosia initiated the project herself with the idea of redesigning the T-J's nearly 10-year-old website.
"Robert's the one who suggested it was also a good time to make it mobile-friendly, and we agreed," Ms. Nicosia said.
Besides fitting better on smaller screens of smart phones and tablets, the new site also loads faster, is easier to use and is easier to find with search engines like Google.
The website itself has a much cleaner look and is more eye-appealing.
"It doesn't scream at you; it just lets you read," Mr. Poole said. "That's what we're all about."
It was only two weeks after introducing the new website that the T-J building on Division Street, Cobleskill, suffered severe water and smoke damage from a fire in an upstairs apartment.
Cobleskill firefighters and volunteers from nearly 10 nearby departments saved the building and all of the T-J's equipment, but interior damage was extensive.
Since then, Elite Cleaning out of Fort Plain has scoured the downstairs offices and upstairs apartments. Elite Cleaning's work will be ongoing.
Asbestos abatement was necessary in the T-J's sales office and computer room, so staffers moved all of the furniture and equipment into the front office.
"Our people were great," Mr. Poole said. "Although we're cramped, we're getting the work done.
"And our commercial printing department, run by Denise Smith, never missed a beat. When I stop to think about it, it's just incredible, really."
The asbestos abatement was finished in early February by Chris MacDonald's C&C Unlimited, which is based in Albany.
Soon to come is the remodeling of the computer and sales rooms.
"This is an opportunity, really, to redesign our offices the way we want," said Mr. Poole, adding that the T-J staff has been discussing the change.
"What began as a crisis at the end of 2015 will turn out to be a very good thing in 2016."