C-R's Loder shoots his way to history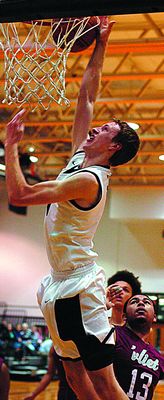 Keenan Loder wrote his name in Cobleskill-Richmondville's sports history books this basketball season.
The Bulldog senior became the all-time leading scorer among C-R players.
"It's special," Loder said Friday. "It definitely means a lot to me, with the players who have been in the program all these years."
According to figures provided by Bulldog Coach Jeremiah Haslun, Loder amassed 933 points in his three years on the varsity.
His total is comfortably ahead of previous Bulldog stars:
•Jeff Tillapaugh, 1995-98, 693 points.
•Ryan Greene, 2003-05, 561.
• Austin Westerveld, 2008-11, 536.
•Shawn Thaxter, 2009-12, 483.
With C-R winning only three games this year, Loder often kept the Bulldogs in range with his scoring.
"Keenan's length, height and versatility, playing either point or the post, made it difficult for opponents to defend him," Coach Haslun said.
"He missed five games last year because of injuries. That would have given him a real chance to get 1,000, which is a milestone."
Loder set other records besides career scoring. His 394 points this year is a single-season record, and his 82 career three-pointers is also a school record, just ahead of Westerveld's 79.
Loder's 391 career rebounds is second to Thaxter, who had 428.
His 19.7 scoring average this season was second to Watervliet's Tajain Gilmore.
Despite being the tallest player C-R's had in years, Loder prefers playing point guard to being underneath the basket.
"I like playing guard," he said. "You can see the whole floor, and it's easier to set up teammates."
Loder's been playing organized basketball since fourth grade. He played football as a freshman, but since then, he's concentrated on basketball.
"It's not about one guy," Loder said of basketball. "It's a team sport, a brotherhood. That's something you don't get in tennis or swimming."
Loder wants to continue playing in college. He's considering attending Nyack, Hartwick or Colgate.