A challenge: Sharon's 3rd Run 4 the Hills
| | |
| --- | --- |
| 3/30/2016 | By Patsy Nicosia |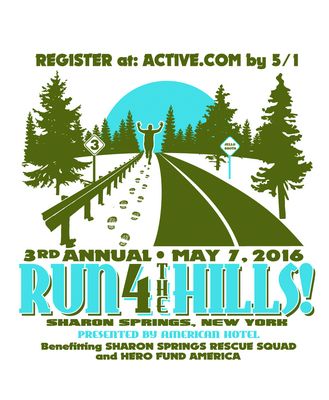 Plans are shaping up for the 3rd annual Run 4 the Hills, an ambitious-and hilly-fundraiser that this year will benefit the Sharon Springs Rescue Squad and Hero Fund America.
Both the run, up, up, and down the hills of Sharon Springs, and Hero Fund America were begun by Garth Roberts in the wake of the Boston Marathon bombings as a way to thank and honor emergency responders.
Each year, the run benefits a local fire department or rescue squad; this year it's the SSRS's turn.
The event will begin at 9am, Saturday, May 7m at the American Hotel.
Online registration is open until May 1 at active.com and if there are still slots open, from 3-5pm Friday, May 6, at the American, or on the day of the race, also at the American, from 7:30-8:30am.
Once again, Broadway Phantom of the Opera performer Ted Keegan will kick off the race with the national anthem, but after that, Mr. Roberts said, organizers are changing things up a bit.
"It's a tough course, so most of all, we try to keep it fun," Mr. Roberts said. "That's what makes us stand out and that's what brings the runners and walkers in-and it all goes to a good cause."
With that in mind, Matt Jonker of the SSRS is "challenging" rescue volunteers and firefighters from other local departments to walk-or even run-the course in full turnout gear.
"It's a show of support for what the run does and it'll be fun too," Mr. Jonker said.
"We're always on the scene of the race in case there's an emergency, but this kicks it up a notch."
Mr. Jonker said any departments interested in participating just need to register-and show up.
The winning department will take home a traveling trophy and bragging rights and there will also be three additional individual awards.
In addition to Mr. Jonker's challenge, Mr. Roberts said the race will include the "old favorites"-on course refreshments, a post race party, and prizes for the top finishers.
"We're Sharon Springs. We're goofy," he said. "Come in costume. Come anyway you want. Just come for a good cause."