Historic Bull's Head marks first year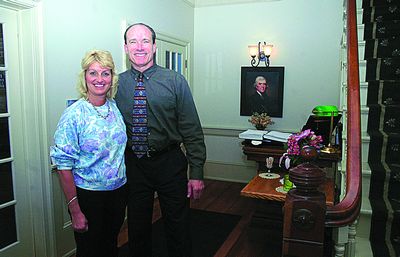 It's taken three and a half years for Chris Guldner and Mary Sagendorf to reach their one-year anniversary of the Bull's Head Inn.
And although the wait was longer--much longer--than expected, it was worth it.
The first anniversary of the reopening of the Cobleskill restaurant comes at the end of this month. Rather than mark just one year, the owners will celebrate the accomplishments that came before.
Mr. Guldner and Ms. Sagendorf bought the closed Bull's Head in January 2013, expecting to reopen the inn just before SUNY Cobleskill students returned that August.
Those plans quickly fell by the wayside, however, when they discovered how much work needed to be done--the right way.
"Yes, we could have reopened sooner," Mr. Guldner said. "But we wanted the Bull's Head to be authentic."
That meant stripping it down to the studs and going forward from there. And to bring it up to building codes, the Bull's Head needed a sprinkler system.
So instead of a few months before opening, it was two and a half years.
They started serving customers last May 28, by invitation only as a soft opening, and opened to the public about a week later.
As if restoring and opening an 1802 restaurant wasn't difficult enough, Mr. Guldner and Ms. Sagendorf got married.
"People marvel that Mary and I got married while we were opening up a restaurant," Mr. Guldner said. "Some TV reality show could be based on that."
The couple had deep support from longtime Bull's Head customers who eagerly followed the restoration.
That support, however, was double-edged.
"We had lots of support from the community," Mr. Guldner said. "Also, that meant they had high expectations of perfection from the start."
There were early glitches, but Mr. Guldner and Ms. Sagendorf, along with their staff, gradually smoothed them out.
"It took months to get to where we want to be," Ms. Sagendorf said.
The Bull's Head has an image of a high-end restaurant--which it is--and also the image that dining there is expensive, which isn't necessarily so.
Mr. Guldner and his senior chef, Seth Corey, developed lunch and dinner menus that offer meals at a range of prices.
"From day one, we've been so proud of our staff," Mr. Guldner said. "Seth. . .it's amazing what he can do, not just culinary, but managing, too."
The owners realized right at the beginning that they have more than a restaurant in a historic tavern. It's no exaggeration at all to call the Bull's Head a landmark.
"One of the things people remember about Cobleskill is the Bull's Head," Ms. Sagendorf said. "They may identify with the Fairgrounds or the college, but they remember the Bull's Head, too.
"We want people to be proud of the Bull's Head. It's a piece of their community."
Mr. Guldner agreed, adding that the inn belongs to Cobleskill as much as it does to them.
"We're just the stewards of this place," he said. "It's not Chris and Mary's."
They've made an effort to become involved in the community. As a Bull's Head owner, Mr. Guldner is now a board member and chair of the Tourism Committee for the Schoharie County Chamber of Commerce.
Ms. Sagendorf has continued her long involvement with the Animal Shelter of Schoharie Valley and Cobleskill Partnership Inc.
The Bull's Head promotes the Schoharie County Beverage Trail and the Haunted History Trail--there's reputed to be a ghost at the inn--is involved in the Farm to Table program and buys produce from local farms.
The owners have also involved Cobleskill-Richmondville students in the restoration. High school students made shutters for "the shutter project," and middle school students painted them.
Restoration isn't complete. The owners plan to reopen the downstairs tavern, now tentatively called the Cellar Tavern.
That's in the future, however. Mr. Guldner noted that their prediction of the restaurant opening--August, 2013--was way off, so he's giving no date for the Cellar Tavern.
"It will be done when it's done," he said.
There are other goals in the future, also. Mr. Guldner noted the difference between a mission statement and a vision statement.
A mission statement, he said, "is what we do:" Serve good food in a pleasant and historic setting.
"A vision statement is what we want to become: The best restaurant in Upstate New York," Mr. Guldner said.