A sad farewell to Blair Hartman
| | |
| --- | --- |
| 5/25/2016 | By Patsy Nicosia |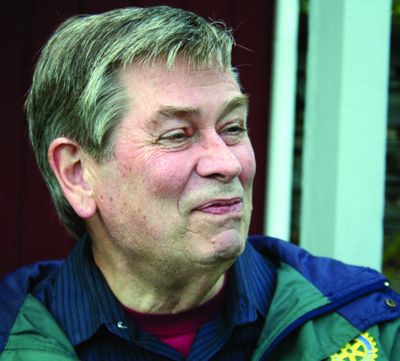 If there's any doubting the impact that Blair Hartman had on Cobleskill and Schoharie County, consider this:
Two of the organizations he was involved in postponed events he had a hand in when they learned of his death Thursday; others held emergency meeting to discuss how to fill his shoes.
Charles Blair Hartman, 73, of Cobleskill died Thursday after a short stay in the hospital.
A teacher at Cobleskill Central School from 1967-1998, he was a longtime member of the Cobleskill Rotary, treasurer and a director for the Sunshine Fair, and treasurer of the Cobleskill-Richmondville All-Sports Booster Club.
Funeral services were Monday; a complete obituary is on page 2.
Friends were surprised by Mr. Hartman's death, but maybe none more so than Leo McAllister, who'd just spent a weekend with him in Lake Placid at the Rotary District Conference.
"He was doing what Blair did," Mr. McAllister said. "Working all weekend."
Mr. McAllister was on the school board when Mr. Hartman taught math there and credited him with creating the Computer Department.
Like most people who knew him, though, Mr. McAllister also has a "Blair story."
When Mr. McAllister's oldest son, Kevin, was involved in theater productions at the school, Mr. Hartman let the kids call him "George."
"We never knew who George was," Mr. McAllister said, laughing. "Kids weren't supposed to call teachers by their first names, but in that environment, he wanted to let things be a little more informal. And they loved it."
Bruce Tryon, C-R school board president, said even though Mr. Hartman had retired more than 15 years ago, he was at the school almost daily and the go-to man for anything audio-visual-a good lead-in to his Blair story.
"It was graduation a couple of years ago and the mic stopped working," Mr. Tryon said. "Blair had to walk across the stage to fix it and I treated it like he was graduating. I acted like I was giving him a diploma and held out my hand. He shook it and the crowd loved it and Blair cracked a big smile too."
Mayor Linda Holmes' family has a long history with the Rotary Exchange Program, something dear to Mr. Hartman's heart, and she credited him for promoting an international connection between Cobleskill and the rest of the world.
"He was a second dad to all of the kids who came through here," she said, "and most of them were still in touch with him. He encouraged kids to follow their passion and his was connecting with the rest of the world."
Cobleskill Rotary President Said Yassin said Mr. Hartman's involvement with that organization began in 1985 and as Youth Exchange chair for 14 years, "His impact on youth reached around the globe."
"Blair was a quiet person, but his community work was very loud and large," Mr. Yassin said. "A true Rotarian, friend, and mentor to all of us, he was a gift to the world. He will be missed, but his legacy and love of community will inspire us to continue in his path."
At the Sunshine Fair, Mr. Hartman was a director-he was just re-elected to another three-year term-treasurer, and in charge of ticket sales.
Those were his official duties, said President Doug Cater.
Unofficially, he put himself in charge of the Fairgrounds' flowers and landscaping-to the point of paying for the flowers--$1,500-himself.
"He felt like that was his responsibility," Mr. Cater said. "And we got so many compliments on them. He had a big heart and Fair Week, like all of our directors, he was here all the time-which isn't easy whether you're 17 or 70.
"He's going to be missed."