Bakery will be good fit with Cobleskill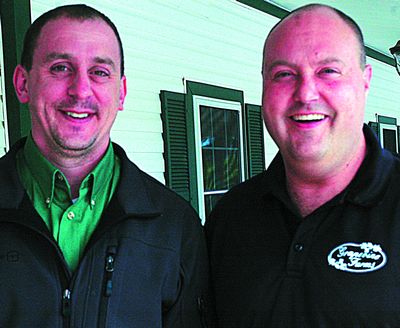 Maybe the idea for a new Cobleskill bakery started with Tim and Tracy Purcell.
Or it could have begun with Vincent Zaba. And his mom, Ernestine Zaba, probably had an unintentional hand in the bakery's beginnings.
Most likely, it was the intersection of all their inspirations that will bring a new bakery to Cobleskill.
That day is in the future, but the Purcells, owners of Grapevine Farms, bought the former Coby Motors building on Main Street and will convert the building to the bakery. Mr. Zaba will run the bakery and be a co-owner with the Purcells, and Ms. Zaba will help, too.
The Purcells were looking at the building since the fall.
"We had a vision of what it could be," Mr. Purcell said. "We wanted to be downtown, and we felt a bakery would fit with the community."
He was already aware of Mr. Zaba's baking talents, developed under Ms. Zaba's tutelage.
One year she asked him to bake a cheesecake for the Sunshine Fair.
"I forgot about it, then remembered right before the Fair," Mr. Zaba said. "I made a Key lime cheesecake, and it won a blue ribbon."
Enter Mr. Purcell:
"At the Fair, you can buy desserts to support the Crafts Building. Tracy was sick, so I wanted to buy her something. Instead of buying one piece, I bought the whole cheesecake.
"Later on I thought, 'Vinnie, you have to make cheesecake for a living.' "
Mr. Purcell returned the cheesecake box and springform pan it was made in to Mr. Zaba's house.
"The box was right on my back deck with note on it, 'We need to talk,' " Mr. Zaba said, indicating that the brief note might not have been good news.
But it was good news, and Mr. Zaba began making cheesecakes and desserts for Grapevine Farms.
"They were phenomenal," Mr. Purcell said. "I knew we had something going."
Mr. Purcell isn't the only fan.
People who've tried the cheesecakes "told me they're better than those from the bigger cheesecake companies," Mr. Zaba said. "That blew my mind."
Cheesecakes will be available at the bakery, but so will much more: bread, cookies, cake, bagels, pies, wedding cakes, birthday cakes and other offerings for special occasions, Mr. Zaba said.
Besides a bakery, there will be a chocolate shop "with our own brand of Schoharie County sweets," Mr. Purcell said.
The store--The Brick House Bakery--will also have a line of retail goods not available at Grapevine.
"There are so many great lines out there," Mr. Pucell said. "It won't be the same as Grapevine. It will have a different feel."
He's also planning classes on baking, chocolate and baking skills. Kids' parties are also in the works.
"There are an endless number of things we can do to keep it going and keep it interesting," Mr. Purcell said.
The two men aren't sure when the Brick House Bakery will open. The back portion of the building will come down, and the front will be completely remodeled.
There will be two apartments and an office upstairs. Parking will be in the side lot and where the back portion of the building stood.
And there will be picnic tables and green space next to Mill Creek, which runs alongside the building. Mr. Purcell expects those tables--and the parking spaces--will be used by people when there's an event in Centre Park, right across Main Street.
The owners have all the necessary permits, and Mr. Purcell praised Mayor Linda Holmes, Codes Officer Mike Piccolo and the village Historic District Review Commission for helping with the process.
"A lot of people have helped already," Mr. Purcell said. "This is something we need. Something to help downtown."