Sunshine greets Memorial Day crowds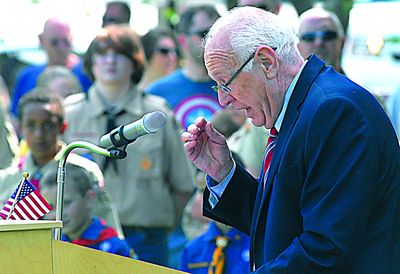 Sunshine greeted a crowds of the patriotic Monday for Memorial Day parades and ceremonies.
In Cobleskill, the parade marched down West Main Street--a different route because of water line work--to Centre Park for the observance.
After Ashley Rickson sang "The Star-Spangled Banner," American Legionnaire Gary Schacher and retired Judge Dan Lamont delivered Memorial Day messages. Both speakers reminded the audience that many veterans gave the ultimate sacrifice so that we could be free and world a safer place.
As President Abe Lincoln, Pete Lindemann offered much the same message in Sharon, where services in front of the school followed a parade.
Also in Sharon, members of the SSCS FBLA presented Legion member Tony Desmond with a check for $425, money they raised with a bake sale, for injured veterans. Sheriff Desmond will present the check to the Patriot Hoghlander.
At Schoharie's Old Stone Fort, veterans, friends and families gathered for Memorial Day and Decoration Day ceremonies.
Carle Kopecky, director of the fort, and Pat Adams played bugles to open the day, followed by Barbara Aulita's singing of "The Star-Spangled Banner."
Students from around Schoharie County read poems about America's wars and conflicts as veterans placed wreaths in front of monuments on the fort's lawn.
Later, the 77th New York Balladeers performed, and flowers were placed on soldiers' graves in the fort cemetery.
There were also Memorial Day events in Middleburgh, Esperance, and Central Bridge.

MANY MORE PHOTOS ARE IN THIS WEEK'S TIMES-JOURNAL.