Dorloo organ headed for Westford home
| | |
| --- | --- |
| 6/15/2016 | By Patsy Nicosia |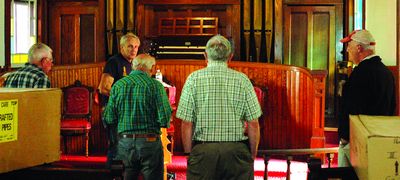 Silent since the sad closure of the Dorloo United Methodist Church last October, the 145-year-old pipe organ that for 80-plus years of Sundays filled the hamlet with music, is on its way to a new home.
Sidney Chase of the Chase Organ Company in Worcester, along with a handful of volunteers, began dismantling the organ last Monday.
That part of the process was expected to take just a few days; reassembling it the United Methodist Church in Westford will likely take most of the summer.
Westford will be the organ's third home.
According to Mr. Chase, it was built by John G. Marklove, who started building organs in Utica about 1858 and continued until his death in 1891.
Mr. Marklove's Utica factory produced a total of 154 organs, among them an organ for the Universalist Church of Richfield Springs, installed in 1871 in its first home.
That church closed about 1917 and the building, along with the organ, was sold to a private owner.
In 1929, the building became a synagogue, and the organ was purchased by Robert Rowland, a St. Johnsville organ builder.
Mr. Rowland reduced the size of the organ and in turn, sold it to the Dorloo Church, where it was in use from 1931 until the church was closed last year.
Mr. Chase served his organ building apprenticeship under Mr. Rowland; Dale All, organist for the Westford UMC, helped match up that church with the organ.
With 378 zinc and wood pipes, Mr. Chase said as he and volunteers worked to dismantle it, the Dorloo organ is relatively small.
As its history shows, he said, it's not at all unusual for an organ to be moved from one church to another.
Mr. All said he's talked with members of the former Dorloo congregation and they're finding some solace in the fact that the organ is being re-homed by the Conference, which still owns the building.
Amanda Collins, who lives in Dorloo and grew up in the church, as did generations of her family before her, agreed.
"It's sad. It will always be sad," she said. "But it's nice to see the organ going to someplace where it will be appreciated."
Too often, said John Branson of Westford, who works on historic building restoration and was lending a hand, loading and boxing up pipes, organs like Dorloo's end up in the dumpster.
"I'm not sure what kind a future the building itself has," he said sadly. "It's a beautiful building. The craftsmanship...It's sad to think of it just falling down into nothing."
Mr. All said the Westford congregation will likely have some sort of dedication service once their new organ is in place and the old Dorloo congregation will be the first on the guest list.