140th Sunshine Fair ready to open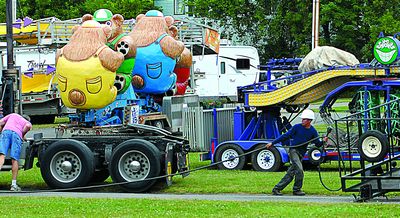 Cheaper, bigger, better.
Those three adjectives best describe the 140th Schoharie County Sunshine Fair, according to Fair President Doug Cater.
A reduced admission and ride price has already received a strong response--even though the Fair doesn't open till Saturday.
The Fair's new Pay One Price system is $15, which offers everyone ages 2 to 61 admission and entry to all events, including rides. For seniors, the price is $10.
"It was $12 before and $20 for a ride wristband," Mr. Cater said. "So it's $15 now versus $32 before. Everyone seems to really like it."
Opening day on Saturday features one of the Fair's biggest attractions, Montgomery County's Sawyer Fredericks.
The 2015 winner of "The Voice" will perform in front of the grandstand at 7pm.
Country performer Lorrie Morgan will bookend the Fair, singing on the final night, August 6.
In between those two stars, the Fair offers plenty more.
"We probably have more attractions on the grounds than we've ever had," Mr. Cater said.
New this year is Heritage Park, which will be by the Fair office near the main entrance. Artisans will demonstrate 19th Century crafts such as pottery-making, blacksmithing, broom-making, wood carving and more.
"It will be something like the Farmer's Museum in Cooperstown," Mr. Cater said.
The entertainment tent, which usually has just music acts, will offer more this year. There will be circus acts there every day, Mr. Cater said.
Also new this year will be the acrobatic Wallenda family, Wolves of the World, a magic and hypnosis show and a canine center that includes dog agility.
Those are in addition to the Fair's traditional ag base of cow, horse, poultry, goat, swine and sheep shows, along with vegetable, craft and food judging.
Combined with the customary features, the new events create "a nice overall package," Mr. Cater said.
He and other Fair directors spend much of the year attending other fairs to see new acts and entertainment.
"We work hard at it," Mr. Cater said. "We're always trying to look for something a little unusual, a little unique."
He praised the grounds crew, under maintenance head Bill Combs.
"It's the best I've every seen it, and we have the largest number of historic buildings of any fairgrounds in the state," Mr. Cater said.
Highlights from Saturday through Wednesday include:
Saturday: Ranch horse show, 8am; dairy goat show; Irish dancers, 2 and 4:30pm; Sawyer Fredericks, 7pm; Moonshine Junkies, 8pm.
Sunday: Jr. Department horse show, 8:30am; 2:30pm & 5pm, Dennis Lee; ugliest cake winner announced, 5pm; home brew competition, 6pm; Kolby Oakley, 7:30pm.
Monday: Schoharie Holstein Show, 9am; Jr. Department goat show, 11am; harness racing, noon; senior program, noon; Jr. Department poultry show, 1pm; donkey and mule show, 4pm; demolition derby, 7:30pm.
Tuesday: Draft horse halter classes, 9:30am; Jr. Department dairy judging; bicycle tickets given out, 11am-4pm; draft horse hitch classes, 1pm; Jr. Department beef show, 1pm; bicycle drawing, 6:30pm; Painted Pony Rodeo, 7pm.
Wednesday: Jr. Department dairy show, 9am; miniature horse show, 9:30am; iron spinner competition 2-4pm; all animal costume parade, 2:30pm; barrel race, 5pm; Jr. Department sheep show, 6pm; demolition derby, 7:30pm.